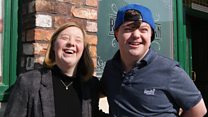 Video
To mark Down's Syndrome Awareness Week, Coronation Street actor met up with a special fan
To mark Down's Syndrome Awareness Week, Coronation Street actor Liam Bairstow, 26, met up with a special fan of the much-loved soap.
Grace Stockdale, 24, who also has Down's Syndrome, has watched the programme all of her life and was keen to find out what life is like for Liam as an actor and also an ambassador for the condition.
"I feel a great honour to speak up. It's been amazing," said the star, who also gave Grace a tour of the cobbles.
She added: "I can't believe I've been able to meet you and interview you for Down's Syndrome Awareness Week."
This clip is originally from Phil Williams on Monday 21 March.