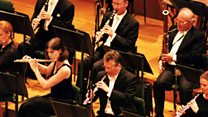 Video
Are women being excluded from orchestras?
Ahead of International Women's Day, BBC Radio 3 asked 40 of the UK's biggest orchestras to reveal the percentages of men and women in their ranks.
From those who replied, they discovered an encouraging picture. In some chamber orchestras, women outnumber men; while women make up between 40 and 50 per cent of the players in most symphony orchestras.
But beneath the surface lay more troubling statistics. While string sections are largely gender-balanced, the same could not be said for the woodwind, brass and percussion players. Women were also under-represented in principal roles.
Furthermore, orchestras are struggling to reflect the fact that students at the UK's conservatoires are principally female.
Radio 3's Tom Service looked into the issues behind the statistics.
This report was originally broadcast on Music Matters, which you can hear in full on the BBC Radio iPlayer.