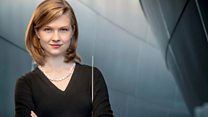 Video
Mirga Grazinyte-Tyla: CBSO appointment 'a huge gift'
The City of Birmingham Symphony Orchestra (CBSO) has appointed 29-year-old Mirga Grazinyte-Tyla as its musical director - making it the only UK orchestra to be led by a woman.
Speaking to BBC Radio 3's In Tune, the Lithuanian conductor revealed she had been told about her new role less than two weeks ago.
She said it was "a great challenge" to step into the shoes of her predecessors - including Sir Simon Rattle and Andris Nelsons.
And she spoke of her admiration for the orchestra's players, who she first conducted last July.
"With the CBSO, it didn't matter which direction you would look, they are open to every impulse. It is a huge gift for a conductor," she told Suzy Klein.