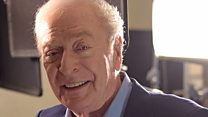 Video
Michael Caine: I would star in Hatton Garden heist film
Sir Michael Caine has said he would star in a film about the Hatton Garden jewellery raid "if the script was good".
A film about last year's £14m jewellery heist by a group of four men - three of whom were aged over 65 - is currently being written.
The 82-year-old actor told the BBC's Nick Robinson he would take on a role in the new film if he was offered a part.
"If I was writing that script it would start extremely funny and then turn sinister," he added.
Sir Michael is currently promoting his latest film, Youth, but coincidentally the star's next film - Going in Style - is about three older friends who resort to robbery in hard financial times.
"It stars Morgan Freeman, Alan Arkin and me - friends who live in Brooklyn and the bank forecloses a mortgage on our flat and we rob a bank to pay it off," he said.
The Hatton Garden safe deposit raid saw valuables including gold, diamonds and sapphires stolen when the gang of burglars - aged 75, 67, 58 and 75 - drilled their way into a vault in London's jewellery quarter.
All four have pleaded guilty to conspiracy to commit burglary.
Go to next video: Caine 'would do Hatton Garden film' - full interview