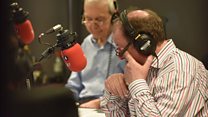 Video
James Naughtie signs off for the last time after 21 years presenting the Today programme.
James Naughtie has signed off for the last time after 21 years presenting BBC Radio 4's Today programme.
His voice broke with emotion as he said goodbye and told listeners "it's been a great privilege".
The presenter thanked listeners for their messages and said "all of you who listen need to be thanked - you are the programme".
Naughtie is stepping down to become Radio 4's special correspondent and the BBC's books editor, which he called "frankly a dream".
He said it was "nice to end with that traditional ending of complete and utter silence" after an outside broadcast link to one of the show's guest failed in the final show.
Naughtie summed up working on the programme by saying "we just sit here and extraordinary things happen".
He also joked his co-presenter John Humphrys would now have a "tidier desk".