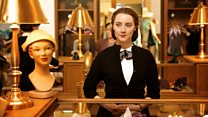 Video
Nick Hornby: Young women given 'so little to do' in films
Screenwriter Nick Hornby, who has worked with Carey Mulligan and Reese Witherspoon, has said young women are given "so little to do in the cinema" apart from parts where they "sit around at home being girlfriends".
"They are given so little to do in the cinema, as a rule, that when you've written a part this size you know you're going to get access to the best talent in the world, and you can't do that with men, with an independent movie," Mr Hornby said.
The author, best known for High Fidelity and About a Boy, has adapted Irish novelist Colm Tóibín's award-winning book, Brooklyn. The film, about a young Irish woman who emigrates to the city in the 1950s to find work, is in cinemas now.
Colm Tóibín praised lead actress Saoirse Ronan's skill for portraying the emotions from the book.