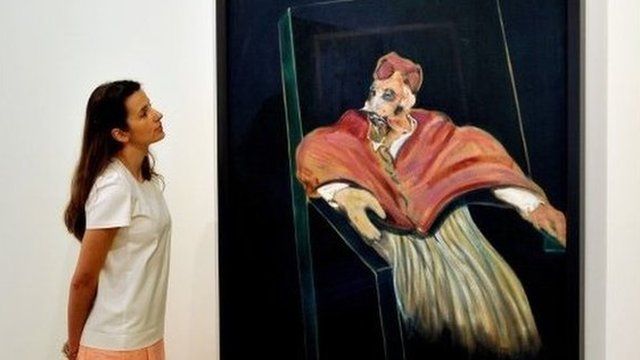 Video
In Homage: The art that influences artists
An exhibition is going on display in London that brings together the works of famous artists who have been inspired by paintings by their predecessors.
In Homage, features Francis Bacon's 1961 Study for a Pope III which was directly influenced by Velazquez's Portrait of Pope Innocent X. Bacon's painting has not been exhibited for 52 years.
The exhibition also features works from George Condo, Sigmar Polke, Martin Kippenberger among others.
Bona Montagu, the curator of the exhibition gave BBC News a guided tour of the paintings and explained their significance.
In Homage is on at the Skarstedt Gallery in London until August 8.
Portrait of Pope Innocent X by Velazquez courtesy of Galleria Doria Pamphilj, Rome
Giorgio de Chirico, Le Muse Inquietanti, Image Courtesy Of Sotheby's. ©2014 Fondazione Giorgio e Isa de Chirico/ S.I.A.E./DACS
Pablo Picasso, Tête De Jeune Homme, and Giorgio de Chirico, Le Muse Inquietanti, are courtesy of Sotheby's
Go to next video: David Bailey embraces digital art