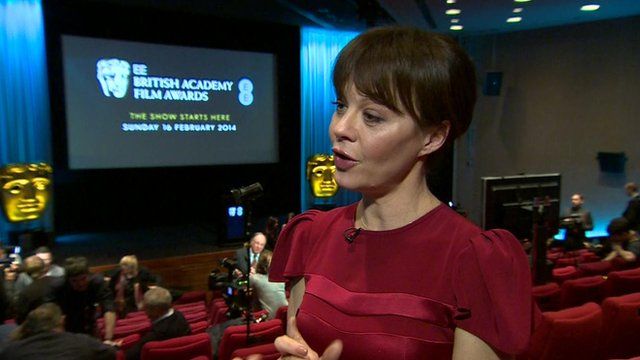 Video
Helen McCrory: Britain leads the way with Bafta
Actors Helen McCrory and Luke Evans were charged with the task of reading out the 2014 Bafta nominations at Bafta HQ in London.
They revealed that Dame Judi Dench is now the most-nominated actress in Bafta history, with a total of 15 appearances on the shortlist.
Her performance in Philomena saw her included in the best actress category, alongside Amy Adams (American Hustle), Cate Blanchett (Blue Jasmine), Emma Thompson (Saving Mr Banks) and Sandra Bullock (Gravity).
McCrory said the appearance of Gravity, Saving Mr Banks and Rush on the best British film shortlist might surprise some people, because their directors and actors largely come from abroad.
"But this is British money, this is British craftsmanship and this is British investment," she said. "We should be incredibly proud and celebrate that."
The actress, who played Cherie Blair in The Queen and Narcissa Malfoy in the Harry Potter films, spoke to BBC entertainment correspondent Lizo Mzimba about this year's nominees.
Go to next video: Baftas, drunk tweets and depression