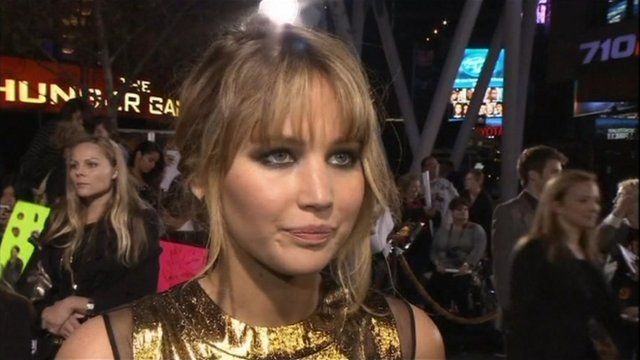 Video
Jennifer Lawrence at The Hunger Games world premiere
Stars of the Hunger games have hit the red carpet for its world premiere in Los Angeles.
Leading lady, Jennifer Lawrence, told reporters that her character, Katniss Everdeen, is "a modern day Joan of Arc".
The film, about a futuristic televised fight to the death, is based on the first of a trilogy from writer Suzanne Collins .
Stars Elizabeth Banks, Josh Hutcherson and Liam Hemsworth all paid tribute to Collins at the premiere.
The film has been cut by its distributor in order to achieve a teen-friendly rating of 12A in the UK.
Clip courtesy of Lionsgate
Go to next video: Cinema snacks: A costly treat?