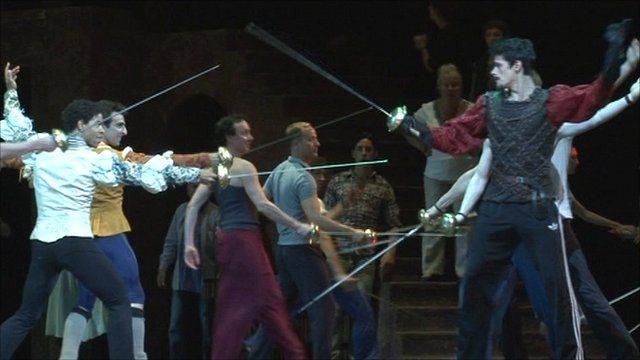 Video
Pointe to Point: Royal Ballet at the 02
Feuding families and star-crossed lovers, Romeo and Juliet has them all. The Royal Ballet is preparing to perform Kenneth MacMillan's classic at the O2 for the first time.
Hoping to attract a new and wider audience to ballet, the performances will feature a filmed introduction to each act, on giant live-relay screens.
Carlos Acosta, Tamara Rojo, Lauren Cuthbertson, Edward Watson, Alina Cojocaru and Johan Kobborg will dance the roles of Romeo and Juliet, over four performances.
Principal Royal Ballet dancer Thiago Soares plays Tybalt in this production. BBC News spoke to him during rehearsals.
Produced by the BBC's Claudia Redmond and Emyr Cummings.
Go to next video: First Person: Power of dance