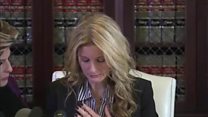 Video
US election: Trump sex assault accuser speaks out
The former reality-TV show contestant Summer Zervos, who had previously accused president-elect Donald Trump of sexual assault, has released another statement.
Mr Trump denied Zervos' original claim, in which she said the businessman had kissed her and touched her without consent.
After more women came forward with similar claims, Mr Trump said they were liars who would be sued after the election.
In her most recent statement, Zervos said she was the target of abuse and harassment after Mr Trump called her a liar. She did not specify from whom she received abuse, or imply that Mr Trump or anyone from his team deliberately orchestrated it.
She asked him to retract his statement. "Even though is hard and painful to go up against the most powerful man, I will continue to speak the truth and I refuse to be intimidated into silence."