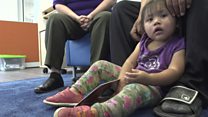 Video
US election 2016 results: Florida migrants live in fear
As Donald Trump prepares to step into the Oval Office full-time, migrant families all over the US are worried about what his presidency might mean for them.
The New York real-estate mogul won the Republican Party nomination partly by promising mass deportations, a stance he has since softened to focus on deporting criminals first.
More than 11 million undocumented immigrants are expected to live in the US. Many of them have been living and working in the country for years and have children that are US citizens.
The day after Trump's election, the BBC followed Lourdes Villanueva of the Redlands Christian Migrant Association as she toured the organisation's schools that host the children of many migrant workers in Central Florida.
Produced by Franz Strasser.
Go to next video: Which Donald Trump will govern?