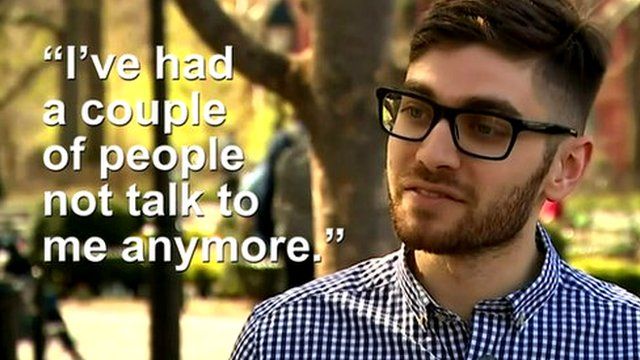 Video
The Trump Effect: The vilified supporter living in New York City
To say Donald Trump is a divisive figure on the American political scene would be a Manhattan-size understatement.
In a recent poll, 67% of American said they had an unfavourable view of the Republican frontrunner; but among Republicans, a majority see him in a positive light.
But putting the polls aside, one need look no further than the violent clashes between pro and anti-Trump campaigners at his rallies to see that the man has a polarising effect.
So much so that Dylan Perera is afraid to speak up about his support for Mr Trump.
The engineering student tells the BBC's Barbara Plett-Usher that he doesn't talk to his friends or professors about his position because he fears a backlash, physical or otherwise.
Filmed by Ian Cartwright. Edited by Olivia Lace-Evans.
Produced by: Suzanne Kianpour, Barbara Plett-Usher & Mat Morrison
Go to next video: The Trump effect on young Republicans