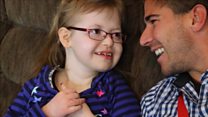 Video
Amazing Children: 'Inspiring' ex-teacher helps disabled children
Chris Ulmer used to be a special education teacher. After working with the same students in Florida for three years, he started filming interviews with them and posting them on Facebook.
"The students in my class were amazing. They were funny, engaging and charismatic," Chris says.
"But the rest of our neighbourhood didn't really understand them. Nobody valued them. I wanted to show off these individuals and help them show the world what they had to offer."
His page Special Books by Special Kids now has more than one million followers and Chris travels the world interviewing children and adults with disabilities.
And his work has been called "inspiring", "amazing" and "changing everyone's view of normal" by some of the people who have posted on his page.
This is the first video in a series about Chris's work. Watch the other ones on ourFacebook page.
Video Journalist: Hannah Gelbart