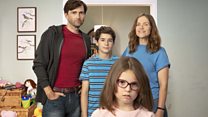 Video
"We made conversation while my daughter licked the pavement"
There She Goes, a BBC Four comedy series about raising a learning-disabled child, has just ended.
In this week's Ouch podcast, the man who wrote it, Shaun Pye, meets journalist William Kremer, who wrote about his own learning-disabled daughter for the BBC.
Shaun describes some of the real life events that inspired the series – like his regular encounters with his well-meaning but hapless neighbour.
"We'd make stilted conversation while my daughter licked the pavement," he says.
Presented by Daniel Gordon.
A full transcript is available here.
For more Disability News, follow BBC Ouch on Twitter and Facebook, and subscribe to the weekly podcast on BBC Sounds or wherever you get your podcasts.