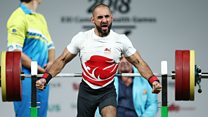 Video
'My Doctor refused to treat me if I went for gold'
Ali Jawad was told the night before an operation that he should prepare his friends and family for the worst - he might not wake up again.
The powerlifter, a double above-knee amputee, had fallen ill a few years before at his first Paralympic Games and was diagnosed with Crohn's disease, an illness he'd never heard of, a few weeks later.
He had to get his head around the disease quickly and it came with an ultimatum - choose health or gold medals.
Presented by Beth Rose with Ali Jawad.
A full transcript is available here. Subscribe to Ouch wherever you get your podcasts. Like us, rate us and leave a nice review - this helps others find our programmes.
Email ouch@bbc.co.uk, Tweet @bbcouch and find us on Facebook.