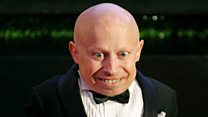 Video
Life in the dark shadow of Mini-Me
Verne Troyer played Mini-Me in the Austin Powers films. Following his recent death, fellow short person Eugene Grant tells this week's Ouch podcast that Troyer's character normalised violent attacks against others with dwarfism.
Also on this week's show - as exam season gets underway, what's it doing to your mental health? We hear from campaigner Jonny Benjamin about the mental health workshops he runs in schools. Plus we hear how your teacher could have given you maths anxiety. And we meet the artist who gives her drawings away as therapy.
Presented by Kate Monaghan and Simon Minty. A full transcript is available here.
Photo: Verne Troyer - Credit: Reuters
Clip of Britain's Got Talent courtesy FreemantleMedia.