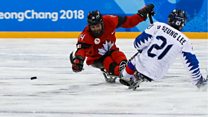 Video
All you really need to know about Paralympic ice-hockey
It's the biggest crowd draw – the ice-hockey – and the locals came out in force to watch South Korea take on Canada.
It was a match full of Mexican waves, K-pop and attempts to break the venue's decibel record for the most amount of noise a crowd could make.
With the home team playing, the stadium was packed and the players put on a show when it came to speed, crashes and smashes.
Presented by Beth Rose with Chris Osborne.
A transcript is available here.
Email the team in Pyeongchang on ouch@bbc.co.uk with any questions you have and they will try to answer them. Also tweet @bbcouch and find us on Facebook and Instagram too.