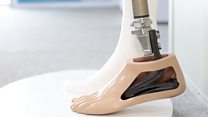 Video
Off-piste at the Paras #6: The fixers
More limbs are broken at the Paralympics than any other sporting event - prosthetic limbs to be precise.
But the athletes need not fear, Ottobock provides a 24-hour emergency pit stop for repairs.
They have already helped over 200 athletes since the winter Games began on 9 March, this includes a few rather unusual requests.
Beth Rose spoke to Peter Franzel from the company.
Subscribe to the feed and you'll receive our semi-sporty podcast almost every day from the big disability event.
A transcript is available here.
Email the team in Pyeongchang on ouch@bbc.co.uk with any questions you have and they will try to answer them. Also tweet @bbcouch and find us on Facebook and Instagram too.