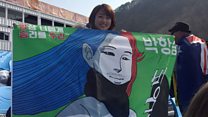 Video
Off-piste at the Paras #5: Snowboard Monday
From DJs to cheerleaders and a Gangnam Style dance-off, the Paralympic snowboard cross competition was the place to be in Pyeongchang.
Three members of ParalympicsGB were competing - Ben Moore, James Barnes-Miller and Owen Pick - but all three missed out on the medals.
Afterwards they had to head to the anti-doping tent to make sure they were free of banned substances, but why was being hydrated so bad for their tests?
Presented by Beth Rose and Chris Osborne.
A transcript is available here.
Subscribe to the feed and you'll receive our semi-sporty podcast almost every day from the big disability event.
Email the team in Pyeongchang ouch@bbc.co.uk with any questions you have and they will try to answer them. Also tweet @bbcouch and find us on Facebook and Instagram too.