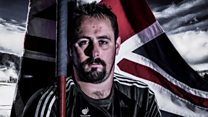 Video
Off-piste at the Paras #4: Snowboarder Ben Moore
How often do tales of hitchhiking end with hopes of a Winter Paralympic medal?
Not often, I imagine. But for Plymouth snowboarder Ben Moore that's exactly how he made it on to the first ever ParalympicsGB snowboarding team, after he missed the bus to work when he was living in Canada.
At the time Ben was coming to terms with a life-changing injury caused by a motorbike crash.
After a valliant performance, Ben was eliminated from the Winter Paralympics competition on Sunday 11 March.
Presented by Beth Rose.
A transcript is available here.
Email the team in Pyeongchang on ouch@bbc.co.uk with any questions you would like to have answered and they will try to answer them. Also tweet @bbcouch and find them on Facebook and Instagram too.
Please subscribe, like, share and give us 5 stars and a great review on Apple Podcasts or wherever you get your podcast from. No pressure.