Media player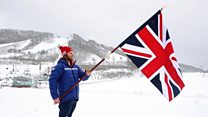 Media playback is unsupported on your device
Video
Off-piste at the Paras #1: We're here!
GB snowboarder Owen Pick talks to Beth Rose on the first edition of our podcast from the Winter Paralympics in Pyeongchang.
Back indoors, Beth and the BBC team chat about being in South Korea, robots, the upcoming opening ceremony... and the state of the snow.
Subscribe to the feed and you'll receive our semi-sporty podcast almost every day from the big shivering disability event.
A transcript is available here.
Email the team in Pyeongchang on ouch@bbc.co.uk with any questions you would like to have answered and they will try to answer them. Also tweet @bbcouch and find us on Facebook and Instagram too.