Media player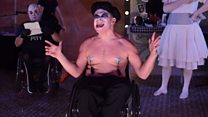 Media playback is unsupported on your device
Video
Gay and disabled
Being part of the male gay scene can be tricky when you "wobble and spasm like I do," says Robert Softley Gale.
The actor with cerebral palsy says there is also a lack of accessibility in "queer" pubs and clubs.
But for now, Robert has a big enough challenge putting on tights in his new touring stage show Blanche and Butch, where he plays a drag queen.
Interview by Emma Tracey. A full transcript is available here.
Subscribe to Ouch, share it on social media and be sure to review it on Apple Podcasts or wherever you get your podcasts from, so that others who are interested in disability and mental health can find us more easily.