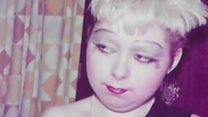 Video
Love, sex and cotton buds
Disabled writer and performer Penny Pepper talks openly about how she found out about the joy of sex thanks to friends at the hospital boarding school she went to in the 1970s.
The interview is full of humour and tips but Pepper also has some serious messages for disabled people about intimacy and who you can trust - inside and outside of a loving relationship.
There's also a surprising revelation about cotton buds that we'll gloss over now but you can hear in full on the podcast. We're going red just thinking about it.
Subscribe to Ouch as a weekly podcast. Rate, review and share us. It's the disability podcast everyone should hear - except perhaps your maiden aunt.