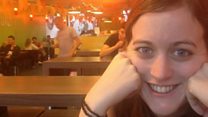 Video
Podcast: Why office treats and commenting on people's lunch choices can be unhelpful
Why office treats and commenting on people's lunch choices can be unhelpful
(Scroll down to the Related links section to find a transcript of this podcast)
Eleanor Bowes struggled with bulimia at university but now works in an office and, perhaps due to her food related difficulties, has noticed a rise in "cake culture" – where people bring treats in to share.
Because she has found this difficult, and knows others do too, she has put together some tips for supporting people with eating problems at work.
Suggestions include not pressurising colleagues to take part in food, alcohol or sports related activities, keeping treats in the kitchen, and not commenting on the lunch choices of co-workers.
With Emma Tracey, Beth Rose and Damon Rose.
Please share this programme on social media, plus rate it and leave comments on iTunes or wherever you get your podcasts from.
If you want to get in touch, email ouch@bbc.co.uk, tweet @bbcouch or find us on Facebook.