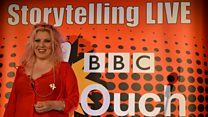 Video
Storytelling Live: Ruby MacKellar reveals her 'date was derailed by dyspraxia'
This is the second in a series of seven entertaining and enlightening stories from people who are disabled or have mental health difficulties on the subject of love and relationships.
In this edition, Ruby - who had never stepped on a stage before this night - talked about a disastrous date which fell foul of her co-ordination due to dyspraxia.
The stories were recorded in March 2017 at an event held by BBC Ouch at the Backyard Comedy Club in London.
A full transcript of this podcast can be seen here.
Share this page on social media and pop over to iTunes or wherever you get your podcasts from, and be sure to rate and review the Ouch podcast.
Tell us what you think by emailing ouch@bbc.co.uk tweet @bbcouch or find us on Facebook.
Go to next video: 'I have a long-lasting relationship … with my psychologist'