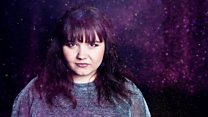 Video
'I have a long-lasting relationship … with my psychologist'
Sofie Hagen presents a short series of entertaining and enlightening stories from people who are disabled or have mental health difficulties.
This is one of seven podcasts which will go out over the next few weeks, all of which are on the subject of love and relationships.
In this edition, the Danish comic tells her own story about the relationships she has with her therapist, friends and food.
Subscribe to the weekly podcast, share this page on social media and pop over to iTunes, or wherever you get your podcasts from, to rate and review us.
Feedback by emailing BBC Ouch or tweet @bbcouch and find us on Facebook.