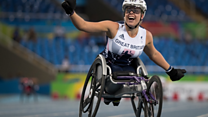 Video
Training confessions of a Paralympian
Five-time Paralympic medallist Hannah Cockroft confesses her winter training is "so boring!" following the vibrant Paralympic Games in Rio earlier this year.
The 24-year-old wheelchair racer also reveals the struggles of securing sponsorship deals compared to some Olympic athletes and her plans and fears of working with the UK's up and coming talent.
Presented by Beth Rose.
To contact us, email ouch@bbc.co.uk, tweet @bbcouch or look us up on Facebook.
Please subscribe for free on iTunes, or your favourite podcast service, to receive this on your device in podcast form. Rate and review it and tell your pals too.