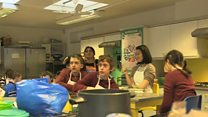 Video
The all-inclusive cookery school in west London
A cookery school has created a specially built kitchen so all children can get involved in the preparation of food, no matter what abilities they have.
The Kids' Cookery School in Acton, London, has kitchen appliances and washbasins which are height adjustable - and the building is fully wheelchair accessible.
The organisation also caters for children with learning disabilities and visual impairment, working with children from the age of three.
Head chef John Fernandez said: "We don't exclude anyone here.''
"We will make the best opportunity we can, and give them as much assistance as we can."
Video Journalist: Kate Monaghan
For more Disability News, follow BBC Ouch on Twitter and Facebook, and subscribe to the weekly podcast
Go to next video: Dad makes daughter comic book hero