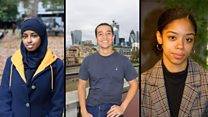 Video
Budget 2018: What do young people want the government to spend more on?
Many young people are worried about how they save and spend their money. Whilst there is some good news - wages are rising and unemployment rates are at their lowest for more than 40 years – young people are still struggling with rising rents, tuition fees and living expenses.
Ahead of next week's Budget announcement, we spoke to three people about their financial worries and what they'd like the government to spend more on.
So what do young people want from this year's Budget?
Read more: Everything you need to know about the Budget
Video Journalist: Hannah Gelbart. Produced by Joshua Cheetham.
Go to next video: 'We are the economy'