Media player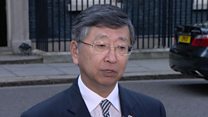 Media playback is unsupported on your device
Video
Japan's ambassador says Brexit is high stakes for his country's investors.
Japan's ambassador Koji Tsuruoka says Brexit means the stakes are high for Japanese companies investing in the UK.
"If there is no profitability of continuing operations in the UK - not Japanese only - no private company can continue operations," he told reporters outside Downing Street," he says.