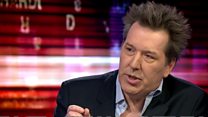 Video
Stephen King: Brexit voters could be 'worse off'
Former HSBC chief economist Stephen King says an irony of the Brexit vote is that many people who supported leaving the EU could now find themselves "worse off".
He told Hardtalk's Stephen Sackur that foreign companies will now be "thinking hard about whether Britain is the best place to be".
Business confidence in the UK has gone down following last week's election result.
A snap poll of 700 members of the Institute of Directors found a "dramatic drop" in confidence following the hung parliament.
Mr King said falling sterling would push up prices at a time when wages were not rising.
"One of the ironies of the Brexit vote is that many people who might have voted for Brexit in the north of England or in Wales or whatever, may discover that as a consequence of the fall in sterling and the erosion of spending power they are actually worse off," he said.
You can see the interview in full on Tuesday 13 June on BBC World News and the BBC News Channel and later on BBC iPlayer (UK only)
Go to next video: What business wants from Brexit