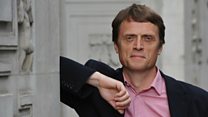 Video
Matthew Taylor: tax rise for self-employed is 'progressive'
Last year the government asked Matthew Taylor, Chief Executive of the Royal Society of Arts and former policy chief for Tony Blair to carry out a review of modern employment practices.
Matthew Taylor told Radio 4's World at One that the tax rise announced in the budget yesterday, to increase National Insurance contributions for some self-employed, was "progressive" and "economically rational".
Mr Taylor said that had this change not been made, there would have been a further increase in the "differential" between the self-employed and the employed.
Go to next video: John McDonnell: Say to Chancellor 'think again'