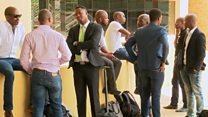 Video
South Africa's growing savers' clubs
In South Africa, saving money is often not a top priority - in fact, the country has one of the worst savings rates in the world. But it is also home to a particular type of saver groups called "stockvels".
Traditionally, stockvels have been small groups of people pooling cash for a specific purpose - anything from groceries to funeral expenses. But as these groups have become a bit more financially savvy, they are saving around $4bn (£3.2bn) a year and the banks are taking more of an interest in them.
The BBC's Vumani Mkhize has more for Africa Business Report.
Go to next video: How do you rebalance your economy?