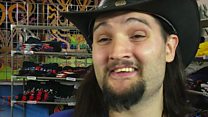 Video
My Shop: Shopkeeper by day, rocker by night
Jon Sharky worked in the music departments of high street chains for just over a decade, but always dreamed of owning his own shop.
A rock frontman by night in Liverpool's vibrant music scene, he saved up money to start his own business.
He has a tiny shop in Liverpool's Quiggins mall for independent shops, but hopes to expand his operations.
Video journalist Dougal Shaw went to meet him.
This video is part of a series from the BBC Business Unit called My Shop. The series focuses on distinctive, independent shops and is filmed on a smartphone. To suggest a shop email us. For the latest updates about the series follow video journalist Dougal Shaw on Twitter or Facebook.
Go to next video: '6p a minute' cafe thrives outside London