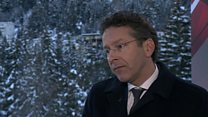 Video
Monte dei Paschi bailout 'not an EU fudge' says Dijsselbloem
As Italy's troubled banks, in particular Monte dei Paschi, look set for a government bailout, ordinary household investors, who bought bonds from the lenders thinking they were safe, are worried that they may be forced to lose some of their money because of an EU law.
The law mandates that investors must take a hit when a big bank fails, before the burden falls on the taxpayer.
The head of the Eurogoup finance ministers, Jeroen Dijsselbloem, told the BBC's Joe Miller that those customers must be compensated.
The Italian government would find it politically difficult to force regular people to help bail out a failing lender.
A workaround has been suggested in which investors are compensated for their bond purchases, because they were mis-sold the bonds by the bank.
What does the man who heads the Eurogroup, which runs the eurozone's financial affairs, Jeroen Dijsselbloem, think?
He spoke to the BBC's Joe Miller.
Go to next video: Moscovici: If you're out, you're out