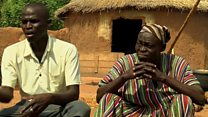 Video
Ghanaian elections hinge on country's economy
In most election campaigns the economy features strongly but in Ghana it is pivotal, as people prepare for both presidential and parliamentary ballots.
The country has suffered after the fall in global prices for commodities such oil, gold and cocoa - among its key exports. And a three-year-long electricity crisis has crippled industry and shut down many factories.
Things have improved a little but will this respite be enough for ordinary people, especially Ghana's farmers?
The BBC's Thomas Naadi reports from the north of the country for Africa Business Report.
Go to next video: Five ways to fix Ghana's economy