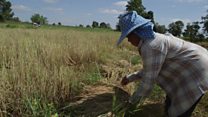 Video
Can Thailand's rice farmers survive low prices?
Over the past month the military government in Thailand has announced subsidies for rice farmers of 38bn baht ($1.1bn; £860m) to address a sharp fall in global rice prices.
Thailand was once the world's leading exporter of rice, but lost that status after the collapse of an extravagant price support scheme run by the last elected government.
However, the new subsidies have raised awkward questions for the government, which has filed criminal charges against former Prime Minister Yingluck Shinawatra and imposed a $1bn fine on her for losses incurred under her scheme.
Go to next video: Thailand faced with worst drought