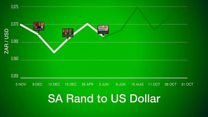 Video
South Africa's political struggle hits economy
South Africa is poised for a economic ratings downgrade from Standard & Poor's. But how has the country got to this point?
The ruling African National Congress is purported to be at war with itself and the battle lines are drawn between those who want President Jacob Zuma to remain as the country's president, and those who want him out.
Fraud charges have been laid and dropped against the Finance Minister, Pravin Gordhan.
A report by the Public Protector unveiled the extent of so-called "state capture", where some business interests had undue influence over the government and even the hiring and firing of ministers.
And all this has been happening against the backdrop of a struggling economy and high unemployment.
Africa Business Report looks at how South Africa got to the edge of the precipice upon which it now stands.
Go to next video: 'Tipping point' in South Africa