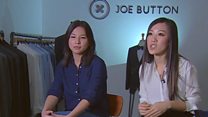 Video
Two Australian tailors in Sydney are taking on Asia - online
Top quality custom-made suits and shirts in the Asia-Pacific region are usually associated with a trip to Vietnam or Hong Kong. Maybe Thailand. Tailors there are celebrated for their quality designs and an ability to measure you up in minutes.
So, you can imagine the surprise when two girls from Australia decided they could start a business doing just the same - online at first - then from an office space in Sydney.
Between mastering Mandarin and growing their business, Modi Song and Melissa Lee found time to tell the BBC's Phil Mercer about their start-up success.
Go to next video: Tanzania's blind tailor to the president