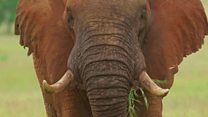 Video
How should we protect endangered species?
The Convention on International Trade in Endangered Species of Wild Fauna and Flora (Cites) used its meeting in September 2016 in Johannesburg, South Africa, as an opportunity to sound the alarm about the urgent need to protect rhinos, elephants, pangolins and sharks.
Elephant populations have shrunk by 30% over the last seven years, mostly because of ivory poaching. But how to conserve these animals is a controversial area itself.
While delegates at the Cites meeting voted against a complete ban on the buying and selling of ivory, a few African countries proposed that the ivory trade be legalised - in a bid to raise more money for conservation - an idea that did not go down well at the gathering either.
For Africa Business Report, the BBC's Jessica Mulder explains why it is such a complex issue.
Go to next video: How does the trade in elephant ivory work?