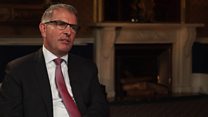 Video
Theo Leggett talks to Lufthansa Group's chief, Carsten Spohr.
Over the past year, the German airline group Lufthansa has experienced tragedy, with the loss of the Germanwings flight 9525 in March, a disaster that cost the lives of all 144 passengers and crew.
Unions representing pilots and cabin crew are also deeply worried by the Lufthansa's attempts to cut costs - leading to strikes, including the longest in its 60-year history.
Yet figures released this week showed that passenger numbers are up and profits this year are also forecast to be very strong.
So why has the group chosen to fight a battle with its staff now? That is a question Theo Leggett put to Lufthansa Group's chief executive, Carsten Spohr.