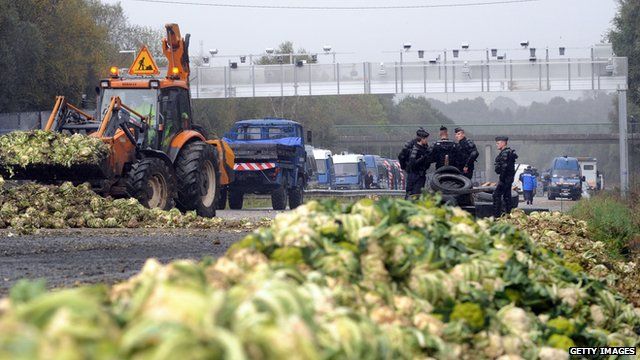 Video
France postpones HGV road tax after cauliflower protest
The French government has postponed a controversial environmental tax on heavy goods vehicles after protesters blocked highways with cauliflowers in Brittany.
The "eco-tax" would charge some commercial goods vehicles for using major roads in France, in order to encourage the use of more environmentally friendly transport.
However the tax could still be introduced in January, and Chris Welsh, Director of Global and European Policy at the Freight Transport Association, is concerned about the impact it will have on the UK haulage industry.
Mr Welsh told BBC Radio 5 live's Wake Up to Money; "We're talking £10 to £15 a journey. Because the margins are so slim in international road haulage it doesn't sound a lot but it does eat into costs... and that is a major problem."
Go to next video: Mother appeals over death crash son