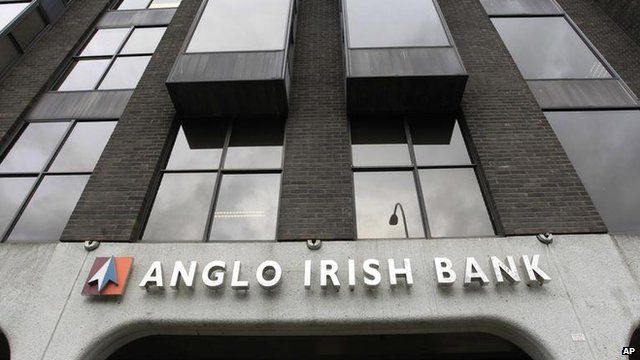 Video
Anglo Irish tapes: 'Teeth-grinding anger' in Ireland
Executives at Anglo Irish Bank have denied misleading Irish authorities during the 2008 financial crisis, following the release of taped internal phone conversations.
The recordings reveal executives discussing the size of a government rescue plan, suggesting they were down-playing the sums of money needed. A government rescue package eventually cost Irish taxpayers 30bn euros ($39.4bn; £25bn).
However in one excerpt, executives John Bowe and Peter Fitzgerald appear to discuss asking for just 7bn euros from Irish authorities.
"The strategy here is- you pull them in, you get them to write a big cheque, and they have to support that money... if they saw the enormity of it up front... they might say the cost to tax payers is too high... if it looks big enough to be important, but not too big that it spoils everything, then I think you have a chance."
The individuals go on to discuss how they might repay the funding, joking: "Under the terms that say repayment, we say 'no'."
In statements, both Mr Bowe and Mr Fitzgerald denied any wrongdoing or any intention to mislead the Irish central bank.
The BBC's Simon McCoy and Jim Fitzpatrick discuss the reaction in Ireland, described as "one of shock, verging on nausea, and teeth-grinding anger."
First broadcast on the Today programme on Tuesday 25 June.
Go to next video: Anglo-Irish was 'systemic threat'