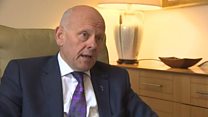 Video
Savings increase for care homes 'masks deeper problem'
Changes to allow elderly people to keep more of their savings when they go into care mask a "deeper problem" in the sector, the chairman of Care Forum Wales has said.
The limit will move from £25,000 to £30,000 as part of a Welsh Government plan to raise it in phases to £50,000.
The Welsh Government claim the move will benefit some 4,000 care home residents who pay for the full cost of their care.
Mario Kreft, chair of Care Forum Wales which represents independent care providers, said the sector was in a "dysfunctional state" and needed better planning for the future.
Go to next video: Care home companies face challenges