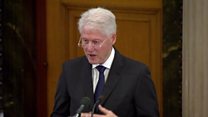 Video
Bill Clinton tribute to Martin McGuinness
Former US President Bill Clinton has addressed the congregation at Martin McGuinness' funeral.
The former IRA leader turned politician died on Tuesday.
"After all the breath he expended cursing the British, he worked with two prime ministers and shook hands with the Queen."
He thanked First Minister Arlene Foster for attending the funeral.
He also thanked Taoiseach Enda Kenny for the speech he made beside President Trump on St Patrick's Day about immigrants.