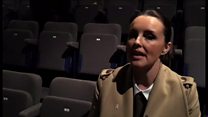 Video
International Women's Day: Shooting survivor's plea
Shooting survivor Rachel Williams has encouraged more domestic violence victims to speak out at Newport's International Women's Day event.
Ms Williams filed for divorce from her husband Darren after suffering 18 years of domestic abuse in 2011.
A few weeks later, he burst into her Newport hair salon and shot her in the leg before going on to kill himself.
Six weeks later, the couple's 16-year-old son, who had witnessed the abuse, was found hanged.
Ms Williams, now an ambassador for Welsh Women's Aid, was a guest speaker at the event at The Riverfront.
The event also included workshops, panel discussions and a comedy show.
Go to next video: 'I was shot by my former husband'