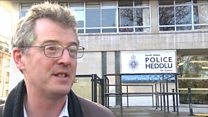 Video
Carer who killed wife with dementia had 'fog of fatigue'
A man killed his wife, who had dementia, to "put her out of her misery" before he tried to take his own life, an inquest has heard.
Margaret Mayer, 85, was found dead at the Cardiff home she shared with her husband Angus, 86, who tried to smother her before beating her to death.
Mr Mayer climbed in front of a train in Cardiff the day her body was found in July 2016. He died seven weeks later.
The coroner ruled Mrs Mayer was unlawfully killed.
One of the couple's son's, Andy Mayer, said his father had been unable to make clear decisions about Mrs Mayer's care because of a "fog of fatigue", and social services should have involved the wider family.
But coroner Andrew Barkley said no failings by social services had caused or contributed to what happened.