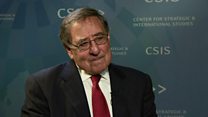 Video
Panetta: 'Trump will have to build alliances'
Donald Trump will face any number of global challenges when he enters the White House in January, ranging from the ongoing civil war in Syria to battling so-called Islamic State.
Former US Defence Secretary and CIA chief Leon Panetta confronted similar crises during his days in office.
He recently co-chaired a commission that urged the use of a multi-faceted approach to counter violent extremists.
Mr Panetta tells the BBC's Katty Kay that the president-elect will have to work with America's friends and allies if he hopes to succeed in tackling these crises.
Go to next video: Which Donald Trump will govern?