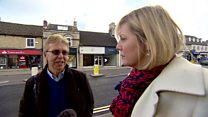 Video
How is the race to replace David Cameron shaping up?
David Cameron announced his resignation as MP for Witney in September, saying he wanted to "avoid being a distraction" to his successor as prime minister, Theresa May.
How do locals feel about his decision, and who's in line to replace him?
Daily Politics reporter Ellie Price spoke to voters, and the following candidates:
Duncan Enright - Labour Party
Elizabeth Leffman - Liberal Democrats
Kenrick 'Dickie' Bird - UKIP
Larry Sanders - Green Party
Robert Courts - Conservative Party
More: Follow @daily_politics on Twitter and like us on Facebook and watch a recent clip and watch full programmes on iPlayer
Go to next video: 'Modern feminism ignores what women want'